QCELLS – Engineered in Germany
QCELLS combines the best properties of all the foremost cell technologies to achieve high outputs at the lowest levelised cost of electricity under one name – Q.ANTUM Technology. Q.ANTUM is the proprietary solar cell technology platform for QCELLS solar modules.
Though based on passivated emitter rear-side cell (PERC) technology, Q.ANTUM offers a number of additional benefits that differentiate the technology from conventional PERC products.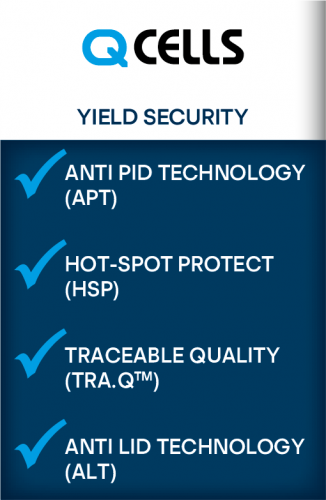 These benefits include high module performance output and long-term reliability thanks to excellent Anti PID (potential induced degradation), Anti LID (light-induced degradation) and Anti LeTID (light and elevated temperature induced degradation) performance. In addition to market-leading anti-degradation performance, QCELLS provides for its Q.ANTUM cells and modules excellent performance warranties, Hot-Spot Protect and Tra.QTM laser marking to ensure 100 % traceability and a guarantee of our strict quality standards.
Q.PEAK DUO
Engineered in Germany – Korean made quality with a 25-year product and performance warranty.
The Q.PEAK DUO is a mono-crystalline solar module with power classes up to 415Wp and an efficiency of up to 21.4%. Q.PEAK DUO solar modules offer higher yields over
smaller surface areas. This is made possible by the new generation of Q.ANTUM's world-record-holding cell concept which has now been combined with state-of-the-art circuitry, half-cells and a six-busbar design.
The QCELLS Anti LID Technology eliminates light-induced degradation (LID), which can greatly reduce system performance, almost completely. Other conventional
monocrystalline solar cells will lose much of their initial performance, once exposed to sunlight. With Q.PEAK DUO this is not the case, thanks to Anti LID
Technology.
Q.MAXX
A reliable investment, the Q.Maxx offers high performance and long-term yield security with Q.Cell's advanced technology and the confidence of quality German Engineering.
Available in up to 390Wp, the Q.Maxx breaks the barrier with a 20.6% efficiency. With their zero gap cell layout, Q.ANTUM DUO Z split cell Technology and extreme weather rating, this makes the Q.BOOST panel ideal for our climate.  The Q.Maxx provides optimal yields, regardless of the weather with impressive low-light and temperature behaviour.
With an 125-year product warranty and 25-year minimum 86% output performance warranty, the Q.Maxx is Built to Last.
GERMAN QUALITY BACKED BY KOREAN FINANCIAL STRENGTH

 
For QCELLS photovoltaic technology is not just a product. It is the key to reliable, powerful, and sustainable energy supply – today and for future generations. 
QCELLS is one of the world's largest and most recognised photovoltaic manufacturers for its high-quality, high-efficiency solar cells and modules. It is headquartered in Seoul, South Korea (Global Executive HQ) and Thalheim, Germany (Technology and Innovation HQ) with manufacturing facilities in South Korea, Malaysia and China. QCELLS offer the full spectrum of photovoltaic products and solutions. QCELLS, as an affiliate of the Hanwha Group with assets over $180 billion, is both a trusted and bankable solar partner for our customers worldwide. Their cell production capacity of 9 GW and solar module manufacturing capacity of 10.7 GW (as of January 2019) makes them the largest cell manufacturer and one of the largest solar module manufacturers in the world. They have a Tier 1 Bloomberg rating and are a BNEF Top Tier module supplier.