Apricus is Latin for 'delighting in sunshine' and our solar evacuated tube collectors, designed for even the toughest Australian conditions, do exactly that. They passively track the sun for more hours of the day to provide greater solar collection. The evacuated tube collectors are highly efficient lightweight and low maintenance. They can withstand hail and frost and the mounting frames are cyclone rated.
Apricus solar hot water systems for homes are available in a range of sizes and gas, gas boosted or electric boosting solutions.
Options:
Hot water heater storage – 250L, 315L, 400
Electric or gas booster
Evacuated tube solar collectors – 22, 30 or 44 tube configurations
Download the Apricus Solar Hot Water brochure
Contact EcoSmart Solar on (07) 4927 1144 for all your Solar Hot Water needs today.
Click here to request your free quote online »
Evacuated Tube Solar Hot Water System- How it works.
The Apricus solar collector includes four main components.
1.      Evacuated Tube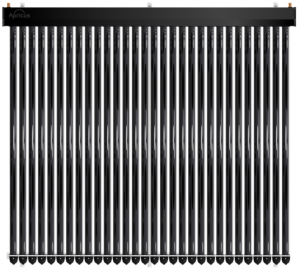 Absorbs solar energy and converts it to usable heat. A vacuum between the two glass layers insulates against heat loss.
The Heat Transfer Fin helps to transfer heat to the Heat Pipe.
The silicon rubber caps at the end of the tube protect the tube and are UV resistant.
2.      Heat Pipe
Copper vacuum pipe that transfers the heat from within the evacuated tube up to the manifold.
3.      Manifold
Insulated box containing the copper header pipe. The header is a pair of contoured copper pipes with dry connect sockets that the heat pipes plug into.
The manifold casing is made of a strong but lightweight aluminium alloy that is folded to form a strong protective enclosure. The casing is finished with matte black PVDF coating that is UV stabilised for long- term colour fastness.
Glass wool insulation is "baked like a cake" to form a complete structural shell around the header pipe. This design minimises the amount of metal used in the casing, reducing embodied CO2, and making it very lightweight. The lightness of the manifold box is a feature that installers value when carrying onto the roof.
4.       Mounting Frame
Strong and easy to install with a range of attachment options
Our manifold is significantly stronger than competitor products with high tensile anodized alumimium mounting frame and 316 (marine grade) stainless steel fasteners and hardware.  Only two of new front tracks are required even in high wind load regions.
Contact EcoSmart Solar on (07) 4927 1144 for all your Solar Hot Water needs today.
Click here to request your free quote online »