LG Solar
LG Electronics Pty Ltd embarked on a solar energy research program in 1985, using our vast experience in semiconductors, chemistry, and electronics. LG solar modules are now available in over 50 countries. LG Electronics is a global and financially strong US$54 Billion company with over 60 years of experience in technology, innovation, and commitment to the renewable energy industry. LG Electronics Australia has been operating in Australia for over 30 years employing over 300 staff and is the warrantor in Australia and NZ for your solar modules.
LG NeON H
LG NeON® H – Ideally suited for Australia and New Zealand climates The LG NeON® H is one of the most powerful and versatile modules on the market today. The LG NeON® H is equipped with N-type cells and half-cut technology to increase power and efficiency compared to previous models. The LG NeON® H includes a 25-year product and performance warranty for high performance and reliability.
25-year parts & labour product, 25-year minimum 90.6% output warranty.
Excellent Low Light Performance
Improved High-Temperature Performance
Enhanced Performance Warranty
Increased Output with HTAR GLass and Anti-reflective Coatings
Proven Infield Performance
Low LID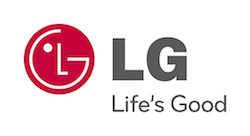 Download detailed information about LG's range
View the Advantages of LG Products
Download LG's market-leading 25-year product warranty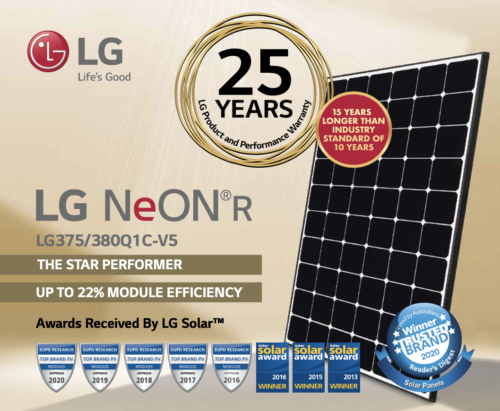 Many competing 60 cell panels in Australia and New Zealand produce 300W power. The LG NeON® R at a similar physical size reaches an incredible 375W (21.7% efficiency), making it ideal for solar systems seeking visually pleasing panels and for roofs where space is tight.
The NeON R is also the right panel when future solar system expansion is considered or as a combo install of panels and solar energy storage via batteries as well as electric vehicle charging. The LG NeON® R is a very powerful module. The 30 multi ribbon busbars at the rear of the module are the result of LG's extensive solar R&D investment.
Download the LG NeON R Datasheet
Contact EcoSmart Solar (07) 4927 1144 for all your Solar Power needs today.